Pinterest is a discovery platform where most people uncover, plan, and carry out new ideas. According to Pinterest, 98% of Pinterest users have tried new ideas that they discovered on Pinterest.
The way Pinterest works is different from other platforms in that it lets you create a new board, based on a new idea or product, and pin relatable items on it.
If you're new on Pinterest, here are the basic terms you'll come across:
Board: This is a public or private collection of pins based on the same idea. For example, you can create a Board to pin ideas on your next vacation.
Pins: Pins are the fundamental of Pinterest. They are what you interact with on this platform, including images and videos. You can add new items to your Board from already existing Pins (Repins), or you can add new ones based on your interests or products.
Why Pinterest Advertising?
Pinterest is a unique platform where your existing or new brand or product can grow significantly. Here are a few reasons why you should consider advertising on Pinterest:
Pinterest Ads Types
Depending on the Pinterest add format you choose and your campaign strategy, you can achieve a wide range of your business goals. Let's get acquainted with Pinterest ad types:
Promoted Pins
Promoted Pins are just like regular pins in that they appear on user's home feed, category feed, and search results and Pinners can Pin them on their Boards. Users can also share and comment on them just like regular pins. The difference is that promoted Pins are boosted to target a category of people with particular interests.
Promotion Pins are great for building brand awareness.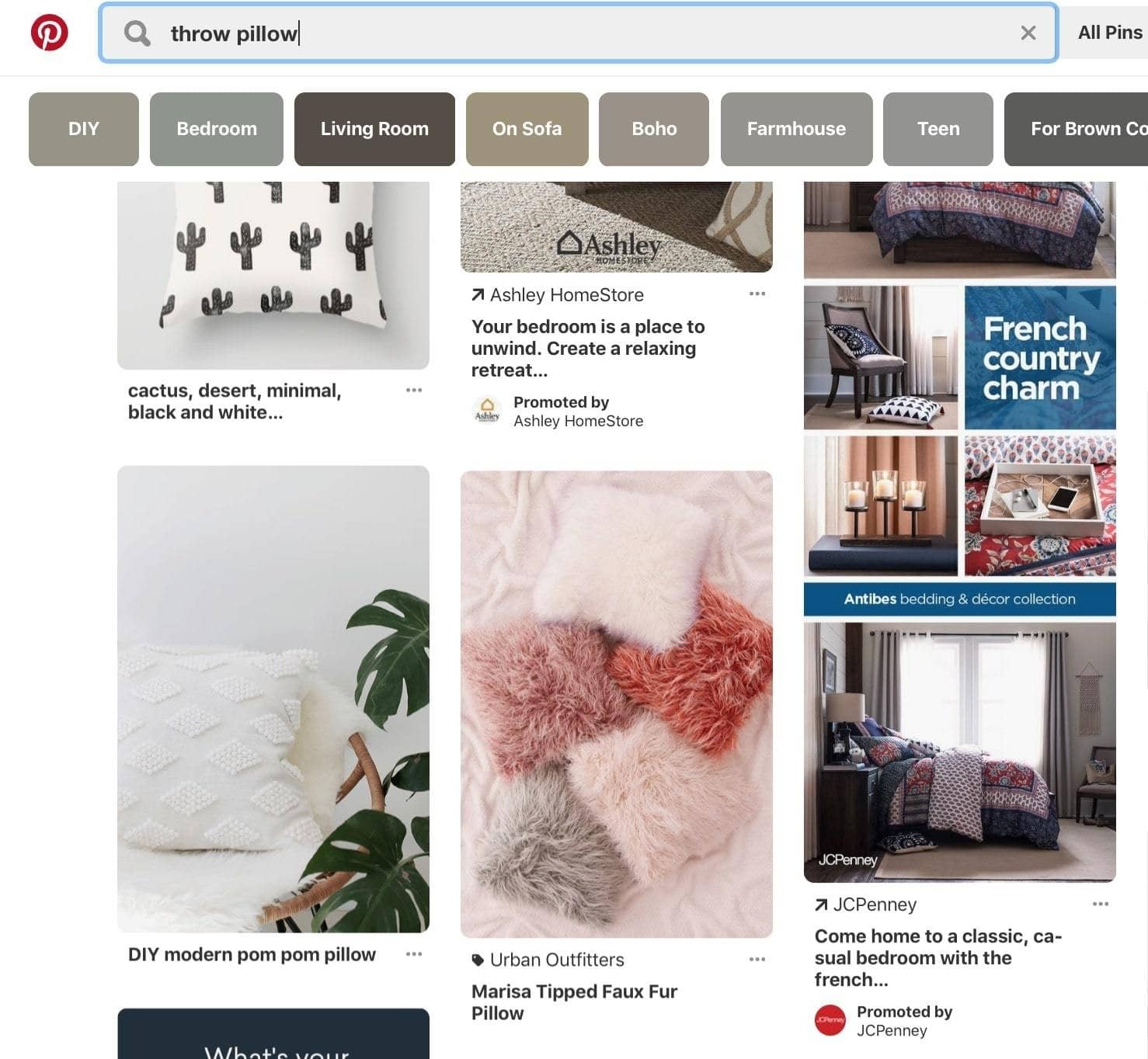 Promoted Pin Features
Single feature image
Aspect ratio: 2:3
File size: Max 32 MB
File type: JPEG or PNG
Title size: Up to 100 characters
Description: Up to 500 characters
Promoted Video Pins
Promoted video pins appear in the users' home feed, search results, and category feed. Just like regular Pinterest videos, they autoplay once they're 50% within view.
One recommendation on your promoted video Pins is that they should have a visual description within the video since most users watch videos with the audio off.
According to Pinterest, 67% of pinners are motivated to take action by promotion video Pins, which make them perfect for brand or product awareness campaigns.
There are two types of promotion video Pins offered by Pinterest:
Standard width video Pins – These are the same in size as regular Pins.
Max width video Pins – These are spread across the entire feed to limit distraction from other pins.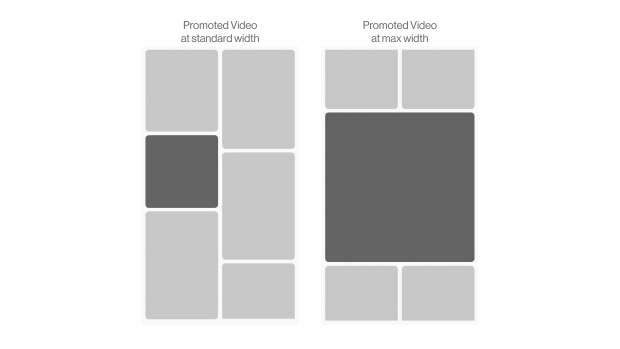 Features of promotion video Pins
File size: Max 2 GB
File type: .mov, .mp4, or .m4v
Video length: Min – 4 seconds; max – 15 minutes
Encoding: H.265 or H.264
Aspect ratio: Standard – 1:1, 2:3, or 9:16 (Width: Height); Max Width – 1:1, 16:9 (Width: Height)
Title characters: Max of 100 characters
Description characters: Max of 500 characters
Promoted Carousels
Promoted Carousels feature two to five images of the same size as standard pins. Promoted carousels appear on the feed and search results of targeted users just as promoted pins do.
The uniqueness of promoted carousels is the fact that each added image can feature a different title, description, and landing page. It's a great way to tell a story about your product(s) or brand as each image can impress a different pinner.
A promoted carousel is easy to notice because of the swipe signal dots below the image.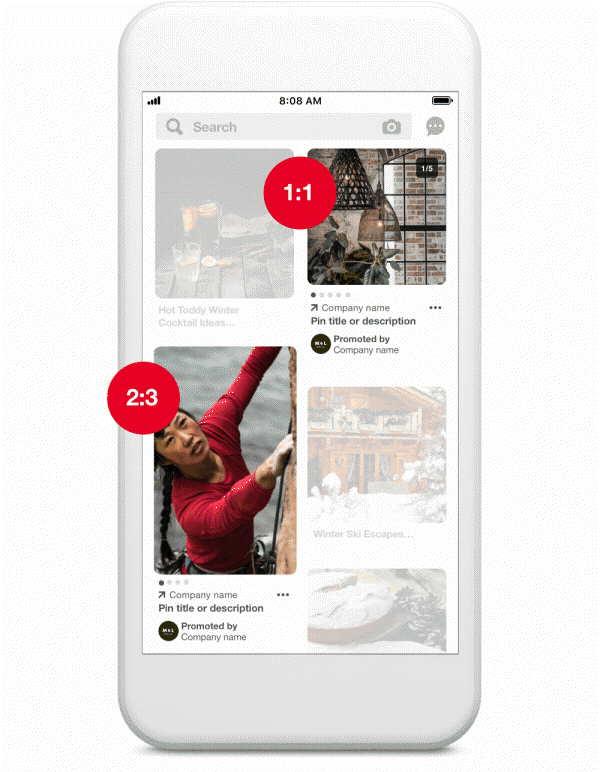 An example of a company that uses carousels flexibility to create awareness of their brand and products is COVERGIRL.
Promoted carousel features
Images: 2 to 5 images per carousel
File Size: Max 32 MB per image
Aspect ratio: 1:1 or 3:3 (Width: Height)
File type: JPEG or PNG
Title characters: Max 100 characters
Description characters: Up to 500 characters
Promoted App Pins
Promoted App Pins are mobile-based Pins only. Considering that 80% of Pinners use their mobile devices, it creates a perfect way for your application to grow.
A Promoted App Pin appears as a regular Pin but with links to application stores to enable a direct download of the app from Pinterest.
Images or video can accompany a Promoted App Pin.
Shop the Look Pins/ Buyable Pins
Buyable Pins are designed to allow users to buy products directly from Pinterest. They are integrated with white dots within the Look Pin, which you click to view specific product details.
One company that has shown significant growth using Buyable Pins is Modern Citizen whose retail orders shot by 73% when they implemented Buyable pins.
Quick Guide on How to Advertise on Pinterest
1. Acquire a Pinterest business account – you can do this by either opening a new business account or by switching your existing Pinterest account to a business account.
2. Install Pinterest Tag to enable you to track Pinners' actions on your website after coming across your ads.
3. Select your campaign objective – Your campaign goal determines the ad types available for you.
4. Choose your campaign name and spending limits(Daily and lifetime)
5. Create an ad group
Ad groups help you achieve several goals using one campaign.  They also help you maximize your budget.
You can create a new ad group or add your promoted Pin to an existing one.
6. Select the campaign's target audience
7. Select campaign placement details
This entails where the campaign ad will be available for Pinners. It can be available on their feed, search results, or both depending on which one you choose and your set budget.
8. Add related keywords and interests to be targeted.
9. Set ad group budget & schedule
10. Modify your ad for optimization and delivery – This includes setting target CPM and maximum CPC (Cost Per Click)
11. Select between standard and accelerated pacing
12. Standard pacing matches your bids with your budget limit and ad campaign duration.
13. Accelerated pacing delivers fast results at a faster use of your set budget(May deplete your set spending before the end of campaign schedule)
14. Add the Pin for your ad, link the product's landing page, and launch your campaign
15. Monitor your campaign's efficiency through Pinterest analytics