When you plan to start a business of your own with your brainchild, you need to consider some factors apart from the capital, space and a team of personnel. You need expertise in the field, which will let you commence with the work, but your expertise will not accompany you all the time since you will need to heed some other aspects of your business too. In order to maintain a balance among all the things and not let your expertise lose its magnetism, you will need to raise the standards for the whole team of yours, including yourself.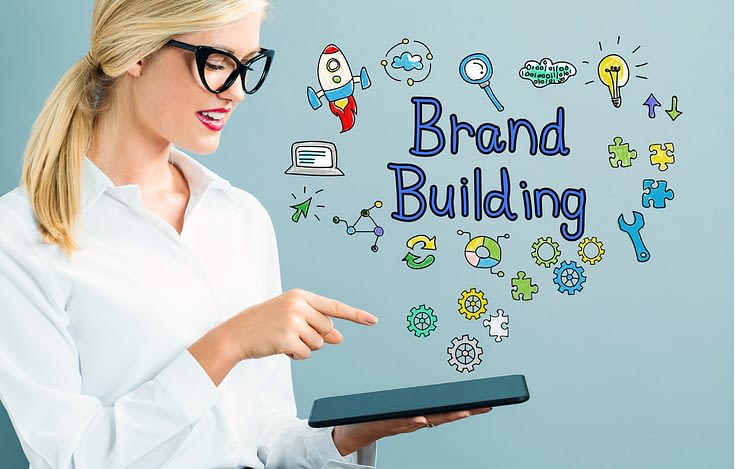 Earlier, a trademark used to make a business recognizable. But, the same is least considered these days. Then, what is that is working and making enterprises renowned brands?
Well, today, it is not possible to build a brand sans advertising it, publicizing it, and before the same, building an ethical business approach targeted at achieving complete customer satisfaction. It has come a long way from just redesigning the logo of your company. Brand building now involves understanding what the customer wants in terms of quality, value and experience, and reaching him out to let him know that your business can fulfill his requirements.
Customer satisfaction should be each brand's priority, whether big or small. Since, it is the customer only, who judges a brand and its products and turns into a paid client to build that brand's reputation. Once you gain your customers' trust, you gain their loyalty, which gradually increases your potential to take the limelight, thus, outshining your competitors in the market.
Let's have a look at some strategies that will help you build your brand in an easy, effective and transparent manner. But, before that, let's better understand the term branding.
[thrive_headline_focus title="What Is Branding And How To Make The First Workable Step?" orientation="left"]
The first thing to consider after starting a business is making arrangements for advertising campaigns and alongside, running promotional events. Event sponsorship follows the two when it comes to improving the brand equity. Brand equity is a term coined for describing a brand's value in the marketing industry.
Products expire after a certain time period, but brands last longer. Branding is converting innovative ideas into a memorable experience. When branding is done for a business, credibility is gained by that business, which automatically drives more and more number of customers to it.
[thrive_headline_focus title="Why Not SEO Only?" orientation="left"]
What branding does is possible through SEO (Search Engine Optimization) too. But, branding is suggested alongside SEO, because only branding can help enhance a company's online presence. One chance may be that you just want to bag a few dollars/pounds, and did not have any other aim to start a business. The other may be that you want to earn name and fame and earn your business good reputation in the "popularity game". In the latter case, therefore, SEO alone cannot get you high traffic. However, the same might get you high ranking in the search results with a few workable keywords.
[thrive_headline_focus title="Let's Switch To Some Major Brand Building Strategies Now" orientation="left"]
First of all, you need to spread awareness about your brand to ensure its success in the long run.
Everything from a Great Logo to Targeted Audience –
When you plan to do branding to take your business to new heights, keep in mind a few things – where do you want your brand to reach, how people should view it and what its main focus is. Make it worth being lived by your customers and in order to do so, know your customers well.
First of all, make a smart choice of colors for the logo and everything about your brand. Colors should be such that people do not find an excuse to forget it. Besides, the logo plays a vital role in helping any brand make a mark. Thus, hire an expert professional to get your company's logo designed in a way to leave a lasting impression on your clients.
And now when you have finalized a logo for the brand, let it be accompanied by a few words that people keep on reminiscing every now and then. Give it a tagline that defines your brand in pithy.
Following Ethical Approach with Targeted Audience in Mind–
Design an ethical approach to run the business operations. If you serve customers the way they want, they would later reflect on your brand for sure. Thus, decide how you want them to see you and how you will present your brand in an efficient manner in the public. Ethics should be your priority; do you keep it the same?
Your team of professionals is who you can eventually owe part of your success to. Get your employees involved in most of the tasks, for they have their own different way of working as per their perception and outlook toward the business values and operations.
While you let them do so, just instruct them on how to keep customers' requirements in mind so as to meet them in a proficient and satisfactory manner. It is your targeted audience that will turn into paid clientele and therefore, you need to carefully judge who will be those people looking for your products the most.
Creating and maintaining a Big Social Circle –
Besides working for your customers, you must also work to reach out to them to know them better and maintain long-term relationships with them. Interacting with people will make you learn new things to do better for your business. Some customers will provide you testimonials to keep as a token of appreciation, which will do a lot in promoting your brand to new customers.
This is an era of social media/networking. Be it an individual, an enterprise, or an NGO. Everyone would socialize to promote themselves, their products, their services, their work, or anything that could take them to a whole new level.
When it comes to building relationships, number does not count. Reach out to as many people as possible, since each and every person will in some way or the other benefit you and your brand. While some will come up with a positive feedback that will act as a motivation for you to do better in future, some will turn to give negative comments, which will again encourage you to improve things and move on to turn these people into your brand's admirers.
It is not only enough to meet people, but remember their names and a few details. The more you show them their value to you, the more they will be returning to you. However, this still does not mean that you are allowed to use flattery.
Paying Attention To The Visuals –
A logo will be something that will reflect on your brand. Keep the same vibrant and engaging, or else, you have the choice of hiring a professional to do the same for you. Think of a big brand like Apple or Mercedes, the logo of the same will strike your mind in a fraction of seconds. These brands have not done anything exceptional, but just created an easy-to-remember, attractive logo and applied effective marketing strategies to promote their brand while ensuring superior quality. This is what you need to do with your brand.
Remember to add your company's logo to each of your products, whether it is a product's body or its packaging. The message/tagline you have designed for your brand should also accompany the same.
Get copyrights for the same, because this is what will make customers recognize your brand and make an impression.
Organizing Promotional Campaigns or Events –
Never forget to organize such campaigns or events, online or offline, which could help people or customers know you better. Among the online methods may come video sharing, or a link to a product launch. You can use YouTube to share a video that is informative and helpful for your customers. Also, you can use Facebook or Twitter to promote your brand in another beautiful and easy way of posting or tweeting anything new about your brand from time to time.
You can also advertise your brand on different websites, which would initially require you to spend a few bucks or dollars. But, ultimately it would return you more money depending on the number of clicks and traffic to your website.
[thrive_text_block color="teal" headline=""]
The Way of Events – Choose this way to gather a huge crowd and promote a new product or service of your company. A corporate event is the most common promotional method used today that helps to a high extent in driving a huge traffic to you and winning their trust too. And if you have that trust of your customers with you, you are at no risk of dwindling or dying out in the long run.
[/thrive_text_block]
[thrive_headline_focus title="Stick To Your Say" orientation="left"]
If you have succeeded in becoming a renowned brand, or are making all possible efforts to be one, make it a point not to go off the track at any point of time under any circumstance. It is important to maintain the integrity and dignity in any business. You should do and deliver what you promise or commit to your esteemed customers. They are valuable to you since the very beginning of your business; they are your lead generators.